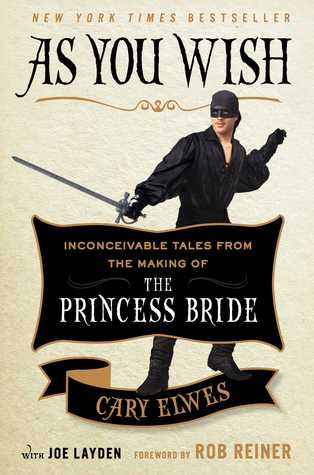 Goodreads Says:
From actor Cary Elwes, who played the iconic role of Westley in
The Princess Bride
, comes a first-person account and behind-the-scenes look at the making of the cult classic film filled with never-before-told stories, exclusive photographs, and interviews with costars Robin Wright, Wallace Shawn, Billy Crystal, Christopher Guest, and Mandy Patinkin, as well as author and screenwriter William Goldman, producer Norman Lear, and director Rob Reiner.
The Princess Bride
has been a family favorite for close to three decades. Ranked by the American Film Institute as one of the top 100 Greatest Love Stories and by the Writers Guild of America as one of the top 100 screenplays of all time,
The Princess Bride
will continue to resonate with audiences for years to come.
Cary Elwes was inspired to share his memories and give fans an unprecedented look into the creation of the film while participating in the twenty-fifth anniversary cast reunion. In
As You Wish
he has created an enchanting experience; in addition to never-before seen photos and interviews with his fellow cast mates, there are plenty of set secrets, backstage stories, and answers to lingering questions about off-screen romances that have plagued fans for years!
With a foreword by Rob Reiner and a limited edition original poster by acclaimed artist Shepard Fairey,
As You Wish
is a must-have for all fans of this beloved film.
My Thoughts:
- I grew up with great movies like The Princess Bride. I remember watching this countless times with my family, and of course we like to quote it A LOT! It was such a treat to read this book! It was like strolling down memory lane with an old friend while learning amazing new things.
- There were plenty of great and hilarious stories about different cast members.
- Reading this made me love and appreciate the movie even more than I already did.
- I wish more actors would write books like this. I would love Warwick Davies to write about Willow or Michael J. Fox write about Back to the Future. How awesome would it be if Harrison Ford wrote about making the Indiana Jones movies!?
- A lot of the cast members were spotlighted in the book, but I felt like there was an overall homage to Andre the Giant. I would love to meet this gentle giant. He seemed like an amazing and fun person. Anytime Cary spoke about Andre in the book, it was with deep respect and reverence. The book, in a way, is almost a memoriam to Andre. At least that is how I felt.
- The entire book is very tender and heart-felt. I could almost feel the love Cary and the rest of the cast had for this movie, for each other, and for fans.
- I cried a little towards the end. I felt so privileged to read this and learn all these behind the scenes stories. The way Cary talked about fans of the movie, I felt like he was talking directly to me.
- Wonderful wonderful book! Every Princess Bride fan needs to read this!