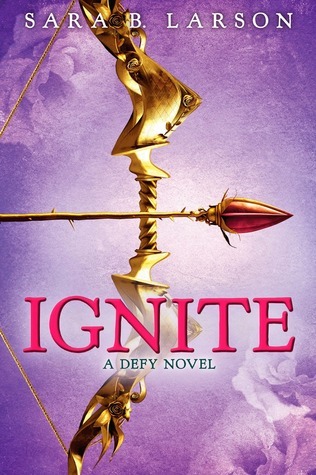 From Goodreads:
Murder, kidnapping, and forbidden romance abound in this thrilling sequel to Sara B. Larson's acclaimed YA debut, DEFY.
Alexa continues to harbor a secret love for the newly crowned King Damian, yet she remains by his side as his guard and ever committed to helping him rebuild Antion and reclaim the hope of Antion's people. However, when a new threat to Damian and his kingdom emerges, and blame is cast on the once friendly nation of Blevon, Alexa knows things are not what they seem. Once again the fate of her country hangs in the balance. Will Alexa be able to protect her king and uncover the true enemy -- before it's too late?
My Thoughts:
- It has been a while, and I didn't take notes. I hope I can remember how I felt about this.
- Overall, I liked it a lot.
- The Alexa/Rylan/Damian triangle thingy still bugs. I wish Rylan was just a good friend. Alexa doesn't even consider him an option.
- I liked the fighting and action. I love reading about how Alexa beats everyone.
- I felt bad for Alexa and her insecurities. I'm sure any woman would be sensitive over her face getting burned, and I liked how the author portrayed Alexa dealing with that. I liked seeing how others could overlook her scars. It was a bigger deal to Alexa than it was to anyone else, and I'm sure that is so true for a lot of things in life.
- I hated Alexa keeping secrets and things from Damian. Their relationship seemed a tad immature in this book. Although there were plenty of tension moments.
- I love the different cultures and seeing them through Alexa's POV.
- Again, I felt like the romantic relationships overpowered the actual story. I wish more focus had been on the conflict. There was a lot going on with the politics and stuff.
- Despite the minor setbacks, I'm eager to read the final book!
Previous Book
(cover is linked)