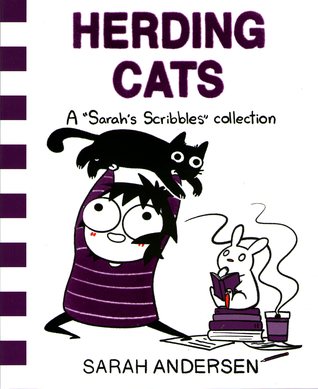 Goodreads Synopsis:
Adjusting to life as a world-famous cartoonist isn't easy. Terrifying deadlines, piles of junk-food wrappers under a glowing computer screen, and an ever-growing horde of pets....umm, never mind--it's pretty much the same.
With characteristic wit and charm, Sarah Andersen's third collection of comics and illustrated personal essays offers a survival guide for frantic modern life: from the importance of avoiding morning people, to Internet troll defense 101, to the not-so-life-changing futility of tidying up. But when all else fails and the world around you is collapsing, make a hot chocolate, count the days until Halloween, and snuggle up next to your furry beacon of hope.
My Thoughts:
- I have a big fan of Sarah's Scribbles. I love how relatable and hilarious her comics are.
- I kept trying to show my husband specific pages saying, "This is me!" Since I did this with the previous two books as well, he just looked at me and said, "Every page is you." I couldn't help it. Each page is so funny and just like me that I can't help but share.
- I love that Sarah takes everyday insecurities and other things and makes them funny. I think they are so funny because they are so true.
- The illustrations add to the humor. The facial expressions crack me up!
- If you haven't read any of Sarah's books, you really need to!