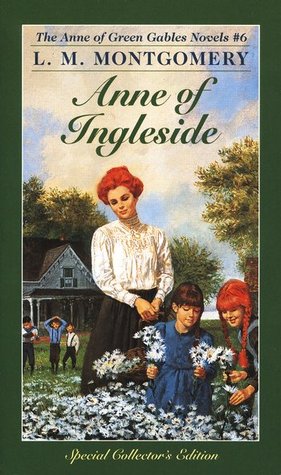 Goodreads Synopsis:
Anne is the mother of five, with never a dull moment in her lively home. And now with a new baby on the way and insufferable Aunt Mary visiting - and wearing out her welcome - Anne's life is full to bursting.
Still, Mrs Doctor can't think of any place she'd rather be than her own beloved Ingleside. Until the day she begins to worry that her adored Gilbert doesn't love her anymore. How could that be? She may be a little older, but she's still the same irrepressible, irreplaceable redhead - the wonderful Anne of Green Gables, all grown up... She's ready to make her cherished husband fall in love with her all over again!
My Thoughts:
- I loved going down memory lane with Anne and Diana. I felt like I was reminiscing with old friends.
- The way the flowers and trees are described makes me want to go outside and admire all of nature's beauty.
- Aunt Mary Maria is a pain! They should have made her go sooner!
- I love how each of Anne's children get their own story and spotlight. I also love how each child has a bit of Anne in them.
- The story about Jem and the dog was very touching.
- Anne makes motherhood sound so pleasant and happy all the time. I can only hope to be a mother like Anne.
- As a doctor, Gilbert has to work a lot, and you never know when he is going to be called on to help someone. That would be so hard. But I love how devoted Anne and Gilbert are to each other. I love their relationship!