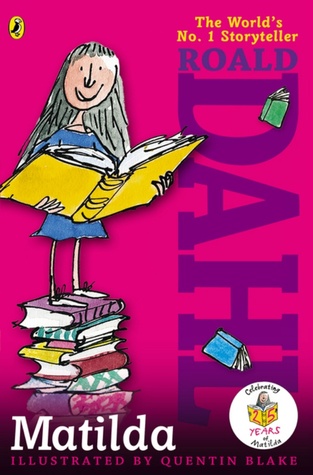 From Goodreads:
Matilda Wormwood is an extraordinay child with thoroughly ordinary and rather unpleasant parents, who are contemptuous of their daughter's prodigious talents. But underestimating Matilda proves to be a huge mistake, as they, along with her vile headmistress Miss Trunchbull, are soon to discover.
My Thoughts:
- This is a childhood favorite of mine! I love Matilda!
- Matilda is such a lovable character. Her family doesn't understand her, and they don't realize how brilliant she is. She finds solace in books, and who doesn't love that!?
- Matilda's parents and Miss Trunchbull are horrible monstrous people, and you just love to hate them. They are such iconic antagonists.
- I love Miss Honey and her situation. She and Matilda have so much to connect over. Every reader just can't help but root for them!
- Of course, Dahl adds a bit of whimsy in this book, and it creates a charming and amazing tale!
- Quentin Blake's illustrations are always a pleasure to see. They add so much to the books, and my daughter loves seeing his pictures.
- I was so excited to share this with my 5 year old daughter. We watched the movie together, and she was excited to read the book, but while we were reading, she wasn't too interested. She liked it, but not as much as The BFG.
Gnome's Thoughts:
(spoilers)
- I liked where they poured water on the Trunchbull's face.
- I liked the newt part.
- I liked that Matilda got to stay with Miss Honey.