Woo! We've finished chapter 26!
Twitter chat tonight at 7:00 MDT.
1. Anne has a gift for loving nature in all its forms, she even gives them delightful names. Do you find yourself appreciating nature more as you read this?
I do, whenever I read this I notice trees more, and I appreciate being outside more.
2. We have finally met Gilbert! What do you think of him? Do you think Anne is justified in hating him so much?
I LOVE Gilbert! He was my first literature crush. I wish Anne didn't hold her grudge for so long, but I do love the academic competition they have going.
3. Anne's imagination finally got the better of her in the Haunted Wood. Do you think she learned anything from that experience? Do you think she'll tone down the imagination a bit?
Despite Anne scaring herself silly, I think she probably enjoyed the whole experience. She is such a romantic, and being a damsel in distress in haunted wood is probably exciting to her.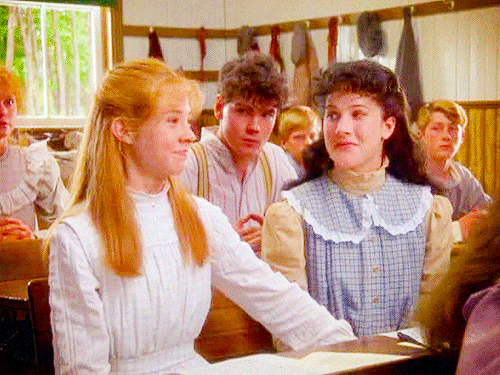 4. What do you think of Diana and the other school girls? Do you think Anne chose wisely for her bosom friend?
I'm really happy that Anne found a friend, and that she didn't have to have made up friends anymore. I think it would have been easy for Anne to become a friend to a jerk too, so I'm glad she found Diana. I hate Josie Pie and some of those other girls, but at least all of them aren't mean.
5. I've always dreamed of visiting Prince Edward Island some day. Do you want to visit there also? What other real life literature places do you want to visit?
Prince Edward Island is on the top of the list for literature places to visit. I've heard it is just as beautiful as Anne describes. I would also love to visit London.