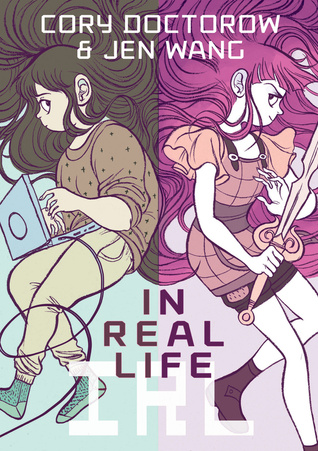 Goodreads Synopsis:
Anda loves Coarsegold Online, the massively-multiplayer role-playing game where she spends most of her free time. It's a place where she can be a leader, a fighter, a hero. It's a place where she can meet people from all over the world, and make friends.
But things become a lot more complicated when Anda befriends a gold farmer--a poor Chinese kid whose avatar in the game illegally collects valuable objects and then sells them to players from developed countries with money to burn. This behavior is strictly against the rules in Coarsegold, but Anda soon comes to realize that questions of right and wrong are a lot less straightforward when a real person's real livelihood is at stake.
From acclaimed teen author (
Little Brother
,
For the Win
) and Boing Boing editor Cory Doctorow and
Koko Be Good
creator Jen Wang,
In Real Life
is a perceptive and high-stakes look at adolescence, gaming, poverty, and culture clash.
My Thoughts:
- This is a great book for gamers, especially World of Warcraft players.
- This book brings up a few questions about the MMORPG world. I feel that these games should just be for entertainment. I hate it when people/companies can make real money off farming resources.
- The illustrations were great. I loved all the game/fictional people.
- I liked how it switched to the game characters while Anda was playing. That is really how it feels when playing. Everyone's identities are their toons.
- I LOVED all the little gaming things. I cracked up at the bunny lady walking into the tree and not knowing how to stop. I did that when I was a newb. I loved the pages where Anda was making her character.
- This made me want to play WoW again. I miss my gnome.