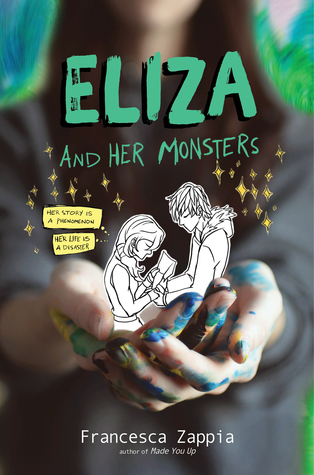 Goodreads Synopsis:
Her story is a phenomenon. Her life is a disaster.
In the real world, Eliza Mirk is shy, weird, and friendless. Online, she's LadyConstellation, the anonymous creator of the wildly popular webcomic
Monstrous Sea
. Eliza can't imagine enjoying the real world as much as she loves the online one, and she has no desire to try.
Then Wallace Warland,
Monstrous Sea
's biggest fanfiction writer, transfers to her school. Wallace thinks Eliza is just another fan, and as he draws her out of her shell, she begins to wonder if a life offline might be worthwhile.
But when Eliza's secret is accidentally shared with the world, everything she's built—her story, her relationship with Wallace, and even her sanity—begins to fall apart.
My Thoughts:
- This was a really great story about figuring out who you are, what you want to be, and how you fit into the world.
- This reminded me a little bit of Fangirl by Rainbow Rowell.
- I liked Eliza. I could relate to her on several levels.
- I also liked Wallace. I liked how he was shy and only wrote notes to her at first, but then he talks more and more.
- I loved all the webcomic stuff. It made me want to get back into it and read a bunch.
- I definitely understand having an identity online and wanting to live in that space, but reality doesn't go away. I wish Eliza had come out of her shell a little more and had a bit more character development. I feel like her problems were only semi-solved.
- Eliza's parents were so clueless and pushy. If they really wanted to get to know their daughter, they should have shut up and listen. Not everyone is the same!
- I liked the little excerpts of the webcomic and Eliza's artwork.
- Overall, this was a good read.