Goodreads Says:
It is a period of foreboding. After the destruction of the Death Star by a Force-strong rebel pilot, the Sith Lord DARTH VADER has taken it upon himself to discover the pilot's true identity under the Empire's ever-watchful eye.
Using the expertise of droid archaeologist DR. APHRA and her lethal droids BT-1 and 0-0-0, Vader looted a stash of credits from an Imperial cruiser, making it look like an accident. Aphra, using the stolen credits, located Commodex Tahn, the mortician who oversaw Senator Amidala's burial, and confirmed Vader's suspicions about the rebel pilot.
However, Vader's new adjutant Inspector Thanoth knows that all is not what it seems and plans to investigate further. Thanoth has discovered the location of an information broker called THE ANTE and has created a strike force to bring him down....
My Thoughts:
- The scenes by the fire are so great. I love the lighting and shadows in these panels.
- I can't get enough of these evil droids! They are so hilarious and awesome!
- Vader is in a tight bind. How is he getting out of this mess?
- Aphra is SO dead! Vader is going to kill her.
Goodreads Synopsis:
It is a time of unrest. After the Death Star was destroyed by an X-wing pilot, the Sith Lord DARTH VADER has been eager to track down the Force-strong rebel responsible.

Vader's adjutant Inspector Thanoth located THE ANTE, an information broker he suspects has crucial knowledge regarding stolen Imperial credits. Droid archaeologist DR. APHRA to the The Ante first and buys from him the location of Luke Skywalker, the pilot responsible for the Death Star's demolition.

Darth Vader and Thanoth arrive just in time to discover that Aphra is the one who stole the mission's credits. They also manage to get the location of the Plasma Devils from The Ante before the information broker is killed. Aphra nearly escapes, but Darth Vader and Thanoth now have her cornered....
My Thoughts:
- I can't believe Vader just sweet talked himself out of his predicament. Lame!
- Thanoth isn't as bright as I thought he was. I'm really disappointed.
- This issue left me with a lot to think about.
- I still think Aphra is going to die.
- I'm SO excited for the Vader Down crossover!! Woo! I kinda wish they had released the Vader Down separately, but I'm still excited for Star Wars and Darth Vader to mingle.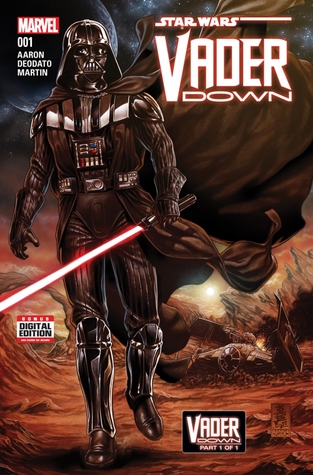 From Goodreads
: When Darth Vader accidentally finds himself facing off against the Rebel Fleet on his own, the rebels will learn the true strength of the Dark Side of the Force! Once Vader crashes on a nearby planet, the Rebellion is willing to risk everything for this once-in-a-lifetime chance to take out one of their biggest enemies! Luke! Vader! Leia! Aphra! Han! Chewie! And all manner of Droid, good and evil!
My Thoughts:
- I think it is weird how the mingled the Vader Down series into the Darth Vader and Star Wars series. I like that they crossover, but I don't like how they are treating Vader Down as it's own series as well.
- Artwork looks different. I love it!
- I always hear about how Anakin was an amazing pilot, but I've never actually seen his amazing flying skills, til now! Holy Cow! That was awesome!
- The layouts and action are SO great! This is one of the best issues I've read! Beautiful artwork and amazing stuff going on.
- OMG! Luke has a lot of guts!
- Vader really shines in this issue! We finally get to see how powerful he really is, and I love that he isn't holding back.
Goodreads Says:
The first crossover of Star Wars' new Marvel age continues here! Vader vs. all the Rebels...it's not a fair fight!
My Thoughts:
- I LOVE THIS COVER!! Seriously, just take a moment to ooh and aah over that cover.
- I know I keep asking this, but why is Aphra so loyal to Vader? I just don't get it. I think by now she is just scared for her life.
- Vader is the bad guy you want to cheer for. I love seeing him use the force to take out armies! So much fun!
Goodreads Says:
VADER DOWN PART FOUR Han & Luke take on Vader's forces...and more? Meanwhile, Leia makes a hard decision. Marvel's first Star Wars event continues here!
My Thoughts:
- Why doesn't it say Vader Down 4 of 6 on the cover? I got a bit confused about which issue I needed to read next!
- Ha! C3PO is SO useless!
- I like that there is a bit of humor among the action.
- This issue introduced some new players, like there wasn't enough people to fight already. Yeesh!
Goodreads Synopsis:
VADER DOWN CONCLUSION Luke Skywalker- captured by the Empire! Darth Vader- beset by enemies on all sides! The finale of the biggest Marvel Star Wars story yet!
My Thoughts:
- The synopsis is right on! Lucas should have been letting Marvel write for him a long time ago!
- Just when I think he is useless, C3PO does something surprising.
- Yes! GO LEIA!
- This was a fun conclusion to Vader Down! I loved that all the characters got their moment to shine! Fun Fun Fun!