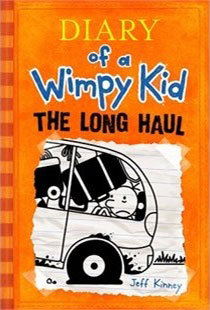 Goodreads Says:
Greg Heffley and his family hit the road in author-illustrator Jeff Kinney's latest installment of the phenomenally bestselling Diary of a Wimpy Kid series.
My Thoughts:
- I thought this series was done, but I guess not. Will this series ever end? Don't get me wrong, I enjoy these books. I think they are hilarious, but I don't like it when series don't end.
- Worst family trip EVER! Wow! Anything that could go wrong, does go wrong.
- The book was really funny. I read parts of it to my daughter and she loved it. I might start reading these to her.
- The illustrations really make these books better. I love them, and they are hilarious!
- I feel like Manny is the smartest one in the family.
- I loved the little piggy!
Previous Wimpy Kid Books
(click on the cover to see my thoughts)