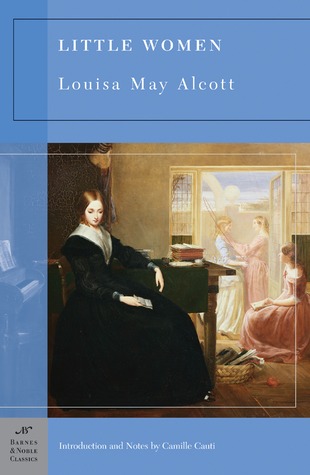 From Goodreads:
Generations of readers young and old, male and female, have fallen in love with the March sisters of Louisa May Alcott's most popular and enduring novel,
Little Women
. Here are talented tomboy and author-to-be Jo, tragically frail Beth, beautiful Meg, and romantic, spoiled Amy, united in their devotion to each other and their struggles to survive in New England during the Civil War.
It is no secret that Alcott based Little Women on her own early life. While her father, the freethinking reformer and abolitionist Bronson Alcott, hobnobbed with such eminent male authors as Emerson, Thoreau, and Hawthorne, Louisa supported herself and her sisters with woman's work," including sewing, doing laundry, and acting as a domestic servant. But she soon discovered she could make more money writing. Little Women brought her lasting fame and fortune, and far from being the girl's book" her publisher requested, it explores such timeless themes as love and death, war and peace, the conflict between personal ambition and family responsibilities, and the clash of cultures between Europe and America.
My Thoughts:
- So, the edition I had growing up only had Part 1 in it. I knew there were other books, but I didn't know Alcott combined Good Wives with Little Women for a bigger book. It was my first time reading Part 2.
- I enjoyed Part 1 a lot more than Part 2. When the March sisters were younger, they were fun and I could relate to them. I wanted to be their friend, and part of their lives. In Part 2, I felt a bit disconnected with the girls, and I got a bit frustrated with the author.
- I feel like Louisa May Alcott tried WAY too hard to convince Jo and the reader that she didn't love Laurie and Jo loved Prof. Bhaer. It made me angry. Why does Jo need to convince herself that she loves someone? Shouldn't it be more natural? I feel like Jo and Bhaer's relationship was really forced.
- Amy and Laurie didn't sit well with me either. Amy gave Laurie a lot of chastisement, and he takes it heart and grows up. Why couldn't he have done that for Jo? I feel like both Laurie and Jo could have grown in their own ways and ended up together.
- I also think Jo should have stayed single like Alcott. Since Alcott based Jo on herself, it would have made more sense for Jo to be single her whole life.
- Okay, back to Part 1! I loved the simple happy lives the March sisters enjoyed and lived during their younger years. I love that they included Laurie in their games. It was so much fun to read, and it put a smile on my face.
- I loved Marmee and her wisdom. She was very wise and caring mother, and I loved all the quotes and lessons from her.
- The story doesn't really have a plot or anything, but I still enjoyed reading the majority of the book. The characters are so real and enjoyable that I didn't mind the lack in plot. I just enjoyed reading about these 4 girls and their lives.