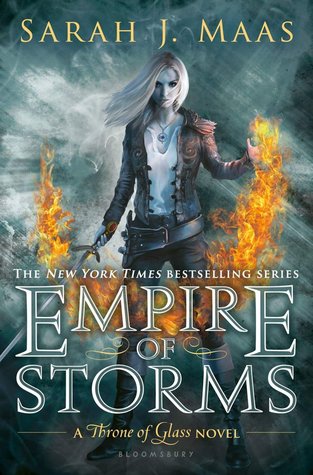 Goodreads Synopsis:
The long path to the throne has only just begun for Aelin Galathynius as war looms on the horizon. Loyalties have been broken and bought, friends have been lost and gained, and those who possess magic find themselves at odds with those who don't.
With her heart sworn to the warrior-prince by her side, and her fealty pledged to the people she is determined to save, Aelin will delve into the depths of her power to protect those she loves. But as monsters emerge from the horrors of the past, and dark forces become poised to claim her world, the only chance for salvation will lie in a desperate quest that may mark the end of everything Aelin holds dear.
In this breathtaking fifth installment of the
New York Times
bestselling Throne of Glass series, Aelin will have to choose what—and who—to sacrifice if she's to keep the world of Erilea from breaking apart.
My Thoughts:
- I've been dreading this review.
- I'm so disappointed, and a little angry, about this book. I feel betrayed.
- The biggest cause of my grief and angst is the porn. This series started out as a fun and edgy YA fantasy. I've cheered on this series, raved about it, defended it, and recommended it to a lot of people, including some teens. I feel like it wasn't fair for the author or publisher to let detailed sex scenes into the 5th book of a series.
- Also, why can't people just keep their clothes on. Several of the characters were just randomly naked a lot. Why? It was like a weird cartoon antic.
- My second biggest complaint was that a lot of these amazing characters were diminished. Rowan was just a dog on a leash for most of the book. It was so frustrating. A lot of the men became dogs on a leash. Lorcan, who gets his power from the devil, became a dog on a leash! Aelin seemed so different. She wasn't a snarky kick butt girl anymore. She had so many doubts and needed so much comfort and support until the crazy unbelievable ending which I will address later.
- Lysandra and Elide had some great character development. They stole the show for me in this book.
- Does everyone need to be paired up? In the first four books, only a few of the characters had romantic interests, and all of a sudden, everyone is being paired up with someone! Why!? They don't need to be, unless every male character needs to be a dog on a leash!
- I didn't buy the ending, and I didn't like it. I don't understand why Aelin needed to keep so many secrets, especially from the small group of people that she trusts and loves more than anything. I also don't think Aelin could predict EVERYONE's moves. There is no way she could predict everyone's motives and what they would do, especially Lorcan. She didn't even know where he was! I hope that wasn't too spoilerish.
- I was so disappointed with this book, that I've decided to take all the books in the series to a book swap event later this month. I don't want these books in my house anymore. I've never felt so betrayed by a book before.