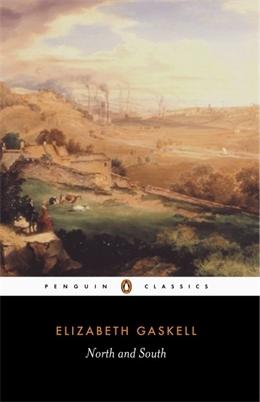 Goodreads Synopsis:
When her father leaves the Church in a crisis of conscience, Margaret Hale is uprooted from her comfortable home in Hampshire to move with her family to the north of England. Initially repulsed by the ugliness of her new surroundings in the industrial town of Milton, Margaret becomes aware of the poverty and suffering of the local mill-workers and develops a passionate sense of social justice. This is intensified by her tempestuous relationship with the mill-owner and self-made man John Thornton, as their fierce opposition over his treatment of his employees masks a deeper attraction. In
North and South
, Elizabeth Gaskell skilfully fused individual feeling with social concern, and in Margaret Hale created one of the most original heroines of Victorian literature.
My Thoughts:
- I enjoyed this, but I'd rather watch the BBC mini series instead.
- I liked being in Mr. Thornton's head most of the time, but I also like the mystery about tall, dark, and brooding men. Being in his head took some of that away.
- I was really angry and disappointed that the book didn't have, "Look back, look back at me."
- The change in perspectives was abrupt and quick. One paragraph was Margaret's perspective and the next paragraph is Thornton's. I wish the perspectives had been more separate or easier to figure out.
- The ending is WAY better in the mini series. The train station scene is much more satisfying. The book ending was abrupt. It just ends. The moment between Thornton and Margaret is so short.
- I enjoyed all the characters, especially Mr. Thornton. I liked the Higginses a lot.
- While this is classified as a classic romance novel, it is so much more. There are a wide range of topics including death, parenting, worker/master situation, unions, learning to love a new environment, social classes, separation from a loved one/family member, etc. There is a lot going on in this book.
- I'm glad I read this, but the BBC mini series is more fun. I get to watch Richard Armitage, the music is amazing, the ending is better, the scenes are beautiful, the looks are killer, the small moments are amazing, and it is just more satisfying to me.