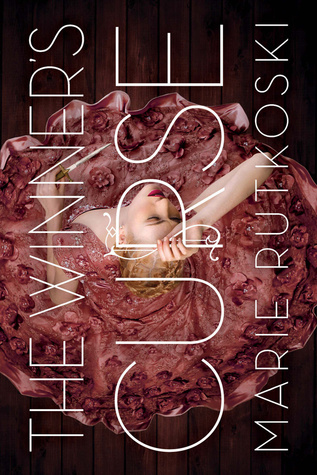 Goodreads Says: Winning what you want may cost you everything you love

As a general's daughter in a vast empire that revels in war and enslaves those it conquers, seventeen-year-old Kestrel has two choices: she can join the military or get married. But Kestrel has other intentions.

One day, she is startled to find a kindred spirit in a young slave up for auction. Arin's eyes seem to defy everything and everyone. Following her instinct, Kestrel buys him—with unexpected consequences. It's not long before she has to hide her growing love for Arin.

But he, too, has a secret, and Kestrel quickly learns that the price she paid for a fellow human is much higher than she ever could have imagined.

Set in a richly imagined new world, The Winner's Curse by Marie Rutkoski is a story of deadly games where everything is at stake, and the gamble is whether you will keep your head or lose your heart.
My Thoughts:
- OMG!! My heart bleeds!!! Oh the emotions!!
- I loved the time period and culture. The whole setting was awesome.
- The dialogue was so powerful. Arin and Kestrel say so little words to each other, but each word is full of meaning.
- My whole body reacted to this book. I don't know if I've had the same physical reaction to any book. My stomach was churning. I had butterflies in my stomach. My gut was wrenched. I got teary. This book was so physically emotional for me!
- I don't know if I'll ever get over this book.
I could not read for a whole day after finishing. I just couldn't stop thinking about Arin and Kestrel.
- I love how brilliant Arin and Kestrel are. Their minds think on a higher level. I wish I was that strategic and clever.
- I can't wait for the next book!! I'm dying!!!