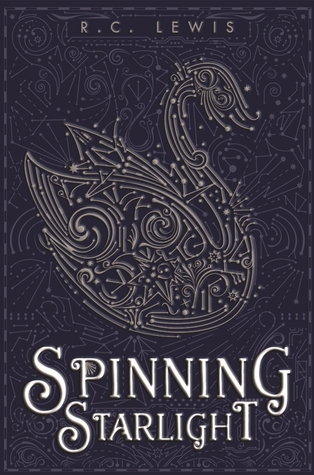 Goodreads Synopsis:
Sixteen-year-old heiress and paparazzi darling Liddi Jantzen hates the spotlight. But as the only daughter in the most powerful tech family in the galaxy, it's hard to escape it. So when a group of men show up at her house uninvited, she assumes it's just the usual media-grubs. That is, until shots are fired.

Liddi escapes, only to be pulled into an interplanetary conspiracy more complex than she ever could have imagined. Her older brothers have been caught as well, trapped in the conduits between the planets. And when their captor implants a device in Liddi's vocal cords to monitor her speech, their lives are in her hands: One word and her brothers are dead.

Desperate to save her family from a desolate future, Liddi travels to another world, where she meets the one person who might have the skills to help her bring her eight brothers home—a handsome dignitary named Tiav. But without her voice, Liddi must use every bit of her strength and wit to convince Tiav that her mission is true. With the tenuous balance of the planets deeply intertwined with her brothers' survival, just how much is Liddi willing to sacrifice to bring them back?

Haunting and mesmerizing, this retelling of Hans Christian Andersen's The Wild Swans strings the heart of the classic with a stunning, imaginative world as a star-crossed family fights for survival in this companion to Stitching Snow.
My Thoughts:
- Great retelling of The Wild Swans!
- This wasn't as good as
Stitching Snow
, but it was still good.
- The culture and setting were a bit confusing at first. I caught on after a while, but there was a bit of a learning curve.
- I liked the flashbacks between chapters. I got to know Liddi and her family better.
- I could really relate to Liddi's anxiety and feelings. I have 3 older brothers, and I care about them immensely. Liddi's brothers reminded me a lot of mine. They were protective and caring over their little sister, and that is exactly how my brothers are with me.
- The tech was SO cool! I loved all the gadgets and things. I wish some of this tech would become a reality.
- The story starts out a bit slow, but I was still entertained. The pace really picks up about halfway through, and I enjoyed it a lot more.
- The main characters were very similar to the Stitching Snow characters. The relationship between LIddi and Tiav was almost the same as Dane and Essie's. I wish there had been a difference. It would have fun to read something new!
- I wish there had been more on the antagonist and what her motives were. That part of the story was really underdeveloped, and I would have liked more depth to that aspect of the story.
- I loved all the alien races introduced in this book. The universe that Lewis created was really fun. I hope she writes more books in this same setting.