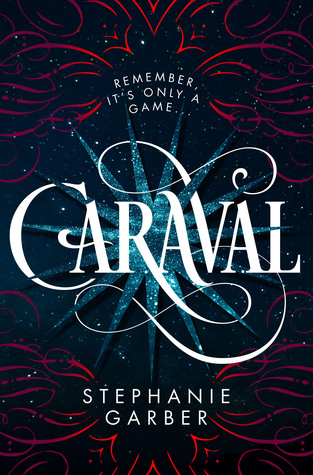 Goodreads Synopsis:
Remember, it's only a game…
Scarlett Dragna has never left the tiny island where she and her sister, Tella, live with their powerful, and cruel, father. Now Scarlett's father has arranged a marriage for her, and Scarlett thinks her dreams of seeing Caraval—the faraway, once-a-year performance where the audience participates in the show—are over.
But this year, Scarlett's long-dreamt-of invitation finally arrives. With the help of a mysterious sailor, Tella whisks Scarlett away to the show. Only, as soon as they arrive, Tella is kidnapped by Caraval's mastermind organizer, Legend. It turns out that this season's Caraval revolves around Tella, and whoever finds her first is the winner.
Scarlett has been told that everything that happens during Caraval is only an elaborate performance. Nevertheless she becomes enmeshed in a game of love, heartbreak, and magic. And whether Caraval is real or not, Scarlett must find Tella before the five nights of the game are over or a dangerous domino effect of consequences will be set off, and her beloved sister will disappear forever.
Welcome, welcome to Caraval…beware of getting swept too far away.
My Thoughts:
- I liked this book, but it is one of those that I don't have a lot to say about. You know? It was just fun.
- The story was imaginative and intriguing. I was hooked from the beginning.
- I liked the thrill of the game and sense of danger everywhere.
- My favorite thing about the story is the setting. I love the immaculate world that was created.
- I want to like to Julian, I do, but I there is something holding me back. I just don't trust him.
- I'm excited for the next book.