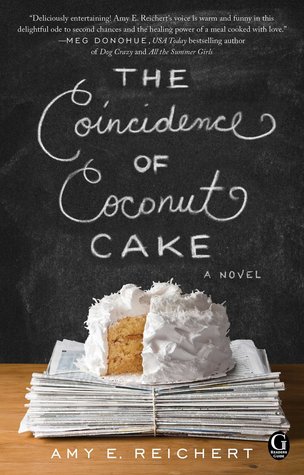 Goodreads Synopsis:
YOU'VE GOT MAIL meets HOW TO EAT A CUPCAKE in this delightful novel about a talented chef and the food critic who brings down her restaurant—whose chance meeting turns into a delectable romance of mistaken identities.
In downtown Milwaukee, Wisconsin, Lou works tirelessly to build her beloved yet struggling French restaurant, Luella's, into a success. She cheerfully balances her demanding business and even more demanding fiancé…until the morning she discovers him in the buff—with an intern.
Witty yet gruff British transplant Al is keeping himself employed and entertained by writing scathing reviews of local restaurants in the Milwaukee newspaper under a pseudonym. When an anonymous tip sends him to Luella's, little does he know he's arrived on the worst day of the chef's life. The review practically writes itself: underdone fish, scorched sauce, distracted service—he unleashes his worst.
The day that Al's mean-spirited review of Luella's runs, the two cross paths in a pub: Lou drowning her sorrows, and Al celebrating his latest publication. As they chat, Al playfully challenges Lou to show him the best of Milwaukee and she's game—but only if they never discuss work, which Al readily agrees to. As they explore the city's local delicacies and their mutual attraction, Lou's restaurant faces closure, while Al's column gains popularity. It's only a matter of time before the two fall in love…but when the truth comes out, can Lou overlook the past to chase her future?
Set in the lovely, quirky heart of Wisconsin, THE COINCIDENCE OF COCONUT CAKE is a charming love story of misunderstandings, mistaken identity, and the power of food to bring two people together.
My Thoughts:
- This was almost the perfect chick lit. Other than some minor complaints, I really enjoyed this one!
- I enjoy cooking and baking, and I love cooking shows, so this book had the perfect setting. I loved every minute of Lou's cooking, and I wanted to sample every dish she made.
- Al's personality was a little weird in a couple parts. I liked him for most of the book, but his instant adoration for Lou seemed out of character for him. He was the big bad food critic, but when it came to Lou, he was mush. I got tired of him adoring her during their first couple of "none dates." I wish he had been more standoffish during the beginning of the relationship. I like brooding guys with a gentle side, and that is what I wanted Al to be. However, I love how Lou made him want to be better, and how he started looking at everything in a new way after meeting Lou.
- I'm a sucker for You've Got Mail type stories, and this one falls smack center in that category. I loved it!
- I really liked Lou, and I sympathized with her. I loved the side characters too. Sue, Harley, and John were fabulous. Otto and Gertrude were perfection. They made me cry.
- Romance usually makes me bored, but I enjoyed the kissing and love making in this one. It was swoon worthy, especially the teasing.
- I'm so excited to try the coconut cake recipe in the back of the book. I was thrilled when I saw it there!