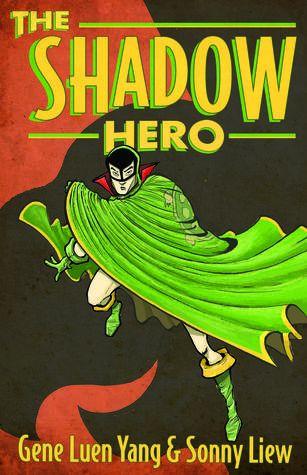 Goodreads Synopsis:
The Shadow Hero
is based on golden-age comic series
The Green Turtle
, whose hero solved crimes and fought injustice just like any other comics hero. But this mysterious masked crusader was hiding more than your run-of-the-mill secret identity...The Green Turtle was the first Asian American superhero.

Now, exactly seventy years later, New York Times-bestselling author Gene Luen Yang has revived this nearly forgotten, pioneering character in a new graphic novel that creates an origin story for the golden-age Green Turtle.

With artwork by the unmatched Sonny Liew, this hilarious and insightful graphic novel about heroism and heritage is also a loving tribute to the long, rich tradition of American superhero comics.
My Thoughts:
- This was a fun read with a good story.
- It almost felt like a Marvel comic.
- The mom was funny. She reminded me of Amy's mom from Futurama. I laughed every time she said, "Ai-ya."
- I enjoyed the illustrations, especially the facial expressions.
- I liked seeing the character development in the main character. It was fun to see him become a hero.
- This wasn't my favorite from Yang, but it was still good.