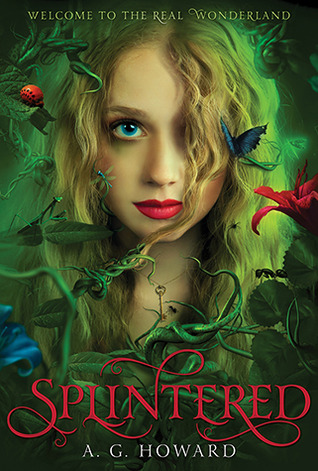 From Goodreads:
This stunning debut captures the grotesque madness of a mystical under-land, as well as a girl's pangs of first love and independence.
Alyssa Gardner hears the whispers of bugs and flowers—precisely the affliction that landed her mother in a mental hospital years before. This family curse stretches back to her ancestor Alice Liddell, the real-life inspiration for Lewis Carroll's
Alice's Adventures in Wonderland
. Alyssa might be crazy, but she manages to keep it together. For now.
When her mother's mental health takes a turn for the worse, Alyssa learns that what she thought was fiction is based in terrifying reality. The real Wonderland is a place far darker and more twisted than Lewis Carroll ever let on. There, Alyssa must pass a series of tests, including draining an ocean of Alice's tears, waking the slumbering tea party, and subduing a vicious bandersnatch, to fix Alice's mistakes and save her family. She must also decide whom to trust: Jeb, her gorgeous best friend and secret crush, or the sexy but suspicious Morpheus, her guide through Wonderland, who may have dark motives of his own.
My Thoughts:
- I am SO disappointed! I've been wanting to read this book for a long time, but when I finally got around to it, ugh!
- The writing style really killed the book for me. It really distracted from the story. There was a whole lot of telling and not a lot of showing. I felt like I was reading. I love reading, but I don't want to feel like I'm reading. I want to be immersed in the story, and I wasn't.
- On top of the writing being really descriptive and distracting, the characters were lame. I didn't like any of them. I don't understand why Jeb was even in the story. He was pointless. I didn't like Alyssa or Morpheus at all.
- Here is strike three! The story was blah! I didn't like it. Alyssa had to complete these tasks in Wonderland, but most of them happened by accident or Morpheus made them happen. The story led to nowhere.
- So the writing, the characters, and the story were lame! Why did I even finish the book?
- There was SO much potential for this book. I think if the story had been executed differently, I would have really liked it.
- There were two things I really liked. The bizarre and creepy creatures were imaginative and awesome. I liked how they were twisted versions of the classic Wonderland creatures. The environment was dark, creepy, and awesome.
- Needless to say, I will not be continuing the series. I had power through the last 100 pages of this book, and it was not fun.