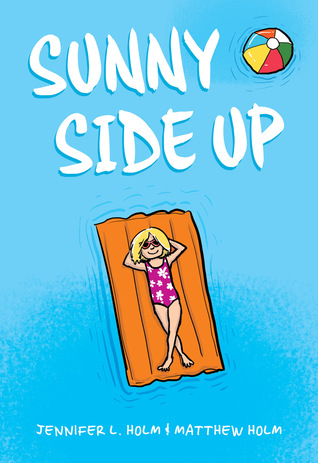 Goodreads Says:
Sunny Lewin has been packed off to Florida to live with her grandfather for the summer. At first she thought Florida might be fun -- it
is
the home of Disney World, after all. But the place where Gramps lives is no amusement park. It's full of . . . old people.
Really
old people.
Luckily, Sunny isn't the only kid around. She meets Buzz, a boy who is completely obsessed with comic books, and soon they're having adventures of their own: facing off against golfball-eating alligators, runaway cats, and mysteriously disappearing neighbors. But the question remains --
why
is Sunny down in Florida in the first place? The answer lies in a family secret that won't be secret to Sunny much longer. . .
My Thoughts:
- I was pleasantly surprised by this book! It was wonderful, and I really needed a good book. I've given 2 stars to the last three books I've read, so I'm glad I finally found a good one!
- I thought this book was going to be a fluff book about a girl and her summer adventures, but it was so much more!
- Sunny's family is struggling, and I loved how Sunny's story was told through flashbacks. I really wanted to find out more about her brother and what happened to Sunny that made her parents send her to live with her Grandpa for the summer. I really felt sorry for Sunny and her family. Having a family member with addiction is never fun, and I know from first hand experience how hard it is on everyone.
- I loved all the comic book references! Great stuff!
- I'm glad Sunny had a kid her age to hang out with.
- The illustrations were very cartoony and fun.
- I really warmed up to Sunny's grandpa by the end of the book. At first he seemed like a stereotypical grumpy old man, but he has a kind heart and genuinely cared for Sunny and her family.
- The ending was great! I loved that Sunny's summer wasn't a total bust. She had fun and made good memories. I also loved the message of hope at the end.
- I'm really impressed that this book for younger audiences touches on a hard concept, and it handles the addiction problem in a very real and tasteful way. Well done!