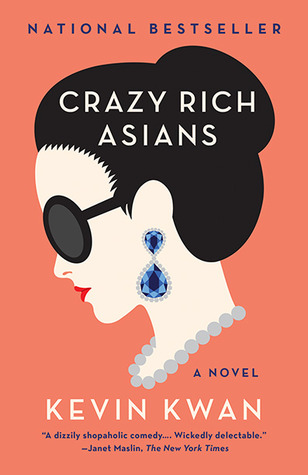 Goodreads Synopsis:
When New Yorker Rachel Chu agrees to spend the summer in Singapore with her boyfriend, Nicholas Young, she envisions a humble family home and quality time with the man she hopes to marry. But Nick has failed to give his girlfriend a few key details. One, that his childhood home looks like a palace; two, that he grew up riding in more private planes than cars; and three, that he just happens to be the country's most eligible bachelor.
On Nick's arm, Rachel may as well have a target on her back the second she steps off the plane, and soon, her relaxed vacation turns into an obstacle course of old money, new money, nosy relatives, and scheming social climbers.
My Thoughts:
- This was a highly addictive-couldn't-put-down-have-to-know-what-happens-next kinda book.
- I really enjoyed all the characters, even the evil ones.
- Rachel is such a strong person, but she put up with way too much for way too long. I felt so happy and miserable when she finally put her foot down.
- Nick is dreamy enough, but I wish I could have gotten to know him better.
- Nick's family is SO messed up! Whoa! I don't even know where to begin. It made for some fun reading, but his family pissed me off. I hope they crash and burn in the next book.
- My heart broke for Astrid and certain other characters. Why can't the nice people be happy and the jerks have their lives fall apart!? It is so unfair.
- The story is one crazy wild ride. There is just one dramatic thing after the next, but it sure is entertaining.
- I would have given this 5 stars, but I'm knocking off a star for some pretty heavy and offensive language. There are also some sexual references, and some are a pretty explicit. I would definitely say this book is rated R.
- There are a lot of footnotes. I feel like the author didn't need to explain that much, but a lot of it was helpful. It was kinda weird though, and distracted from the story a little.
- The story ends nicely enough, but there are a lot of open ended situations and questions, and I'm hoping these are answered in the rest of the series.