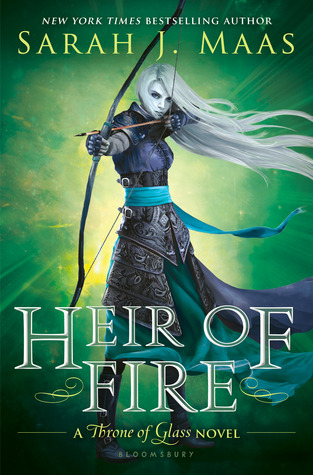 Goodreads Synopsis:
Lost and broken, Celaena Sardothien's only thought is to avenge the savage death of her dearest friend: as the King of Adarlan's Assassin, she is bound to serve this tyrant, but he will pay for what he did. Any hope Celaena has of destroying the king lies in answers to be found in Wendlyn. Sacrificing his future, Chaol, the Captain of the King's Guard, has sent Celaena there to protect her, but her darkest demons lay in that same place. If she can overcome them, she will be Adarlan's biggest threat – and his own toughest enemy.
While Celaena learns of her true destiny, and the eyes of Erilea are on Wendlyn, a brutal and beastly force is preparing to take to the skies. Will Celaena find the strength not only to win her own battles, but to fight a war that could pit her loyalties to her own people against those she has grown to love?
My Thoughts:
- This series is so epic and amazing! It is one of my new favorite high fantasy series of all time!
- Yes, I snapped at my family when they interrupted my reading time. I kinda feel bad about it now, but I was just so enveloped in the story.
- I love that this book was mostly about the characters finding themselves. Celaena obviously has a lot of baggage she had to deal with and face, and I liked getting to know her better as she faced her inner demons. Chaol was trying to figure out his loyalties, motives, and what he wanted to do with himself. It was nice to see Dorian move one and grow as a character.
- I liked the new characters that were introduced. Sorscha was an interesting character. I didn't know if I should trust her or not. I liked Rowan a lot even though he was a jerk. Celaena and Rowan really needed each other.
- The parts about Manon were intriguing. It was something new thrown into the mix, and I didn't want to feel sympathy or like the even iron ladies, but Manon and Abraxos are intriguing. I'm excited to see what role they will play in the grand scheme of things.
- The ending was OMG!!! I need the next book! It is killing me! Who knows what the king will do next!? What is Celaena going to do next? It is crazy awesomeness!