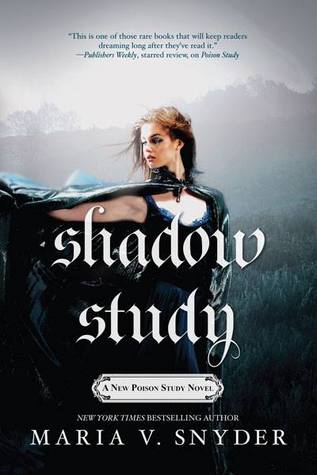 From Goodreads:
Once, only her own life hung in the balance…
When Yelena was a poison taster, her life was simpler. She survived to become a vital part of the balance of power between rival countries Ixia and Sitia.
Now she uses her magic to keep the peace in both lands—and protect her relationship with Valek.
Suddenly, though, dissent is rising. And Valek's job—and his life—are in danger.
As Yelena tries to uncover her enemies, she faces a new challenge: her magic is blocked.And now she must find a way to keep not only herself but all that she holds dear alive.
My Thoughts:
- I'm not a fan of the cover. I love the covers of the Study series and the Glass series. This cover doesn't portray the story very well, and it looks rudimentary.
- I'm a HUGe fan of these books, but this book didn't seem up to par.
- The writing seemed elementary at times. There were a lot of short sentences, and several points and thoughts were repeated.
- I liked learning about Valek's history a lot, but I felt like it should have been a separate book or done differently. The different stories would have made a nice novella.
- Valek's flashbacks seemed a little out of place. He was super busy and barely had time to sleep, but he spent a lot of time reminiscing.
- The book is told from a few different perspectives, and I wish it had all been done from Yelena's perspective.
- I loved reading about these characters that I love, and I liked going on another adventure with them.
- There wasn't as much action as I hoped for. Most of the book is traveling and gathering information.
- Not a lot happened throughout the book to move the plot forward. There was a lot of back and forth.
- Despite all of my complaints, I did enjoy the book, and I'm excited for more books about Yelena and the gang.