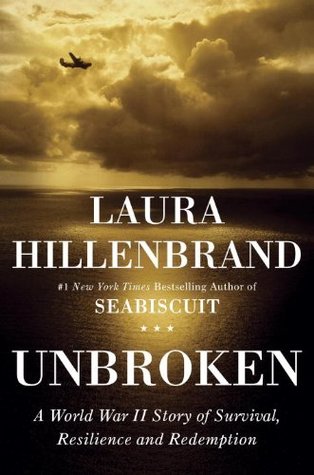 Goodreads Synopsis:
On a May afternoon in 1943, an Army Air Forces bomber crashed into the Pacific Ocean and disappeared, leaving only a spray of debris and a slick of oil, gasoline, and blood. Then, on the ocean surface, a face appeared. It was that of a young lieutenant, the plane's bombardier, who was struggling to a life raft and pulling himself aboard. So began one of the most extraordinary odysseys of the Second World War.
The lieutenant's name was Louis Zamperini. In boyhood, he'd been a cunning and incorrigible delinquent, breaking into houses, brawling, and fleeing his home to ride the rails. As a teenager, he had channeled his defiance into running, discovering a prodigious talent that had carried him to the Berlin Olympics and within sight of the four-minute mile. But when war had come, the athlete had become an airman, embarking on a journey that led to his doomed flight, a tiny raft, and a drift into the unknown.
Ahead of Zamperini lay thousands of miles of open ocean, leaping sharks, a foundering raft, thirst and starvation, enemy aircraft, and, beyond, a trial even greater. Driven to the limits of endurance, Zamperini would answer desperation with ingenuity; suffering with hope, resolve, and humor; brutality with rebellion. His fate, whether triumph or tragedy, would be suspended on the fraying wire of his will.
In her long-awaited new book, Laura Hillenbrand writes with the same rich and vivid narrative voice she displayed in
Seabiscuit
. Telling an unforgettable story of a man's journey into extremity,
Unbroken
is a testament to the resilience of the human mind, body, and spirit.
My Thoughts:
- My book club read this right before the movie came out, but I didn't read it. I was very hesitant to read it because the subject matter scared me.
- After hearing about how good the story was, and after hearing about how good the movie was, I decided to finally give this book a chance, and I'm SO glad I did.
- This story is AMAZING! Louis Zamperini is an astonishing person! Wow!
- I felt so bad for poor Louis's mom. Louis was one crazy kid, and I'm sure she had a lot of sleepless nights worrying about him. Then as an adult Louis is lost as sea and they think he is dead. His poor family! I felt for them!
- It is so sad and a little maddening that so many soldiers died from plane accidents. I know we were fairly new to airplane technology, but you'd think they would have learned from a lot of these accidents and made better planes sooner! Maybe they didn't have the funds, I don't know, but it really sucks that a lot of soldiers died because of poor engineering.
- The story is VERY engrossing. I couldn't stop reading! The story itself is amazing, but the writing is phenomenal. I didn't feel like I reading at all, especially a nonfiction book. I felt like I was witnessing an incredible journey.
- It is hard to believe that some of these stories are real. They seem so supernatural, but you can't make some of this stuff up either.
- Some of my favorite parts were after the war. I was so sad to see Louis struggle with PTSD. I kept cheering for him and hoping his life would get better, and OMG! Louis once again proves that he can't be broken! His redemption story at the end is so powerful!
- I cannot praise this book enough! It is a fabulous read! I highly recommend it to ANYONE! Great great book!