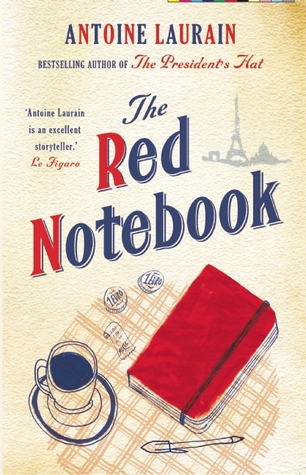 Goodreads Synopsis:
Heroic bookseller Laurent Letellier comes across an abandoned handbag on a Parisian street. There's nothing in the bag to indicate who it belongs to, although there's all sorts of other things in it. Laurent feels a strong impulse to find the owner and tries to puzzle together who she might be from the contents of the bag. Especially a red notebook with her jottings, which really makes him want to meet her. Without even a name to go on, and only a few of her possessions to help him, how is he to find one woman in a city of millions?
The Red Notebook
has already been sold in twelve different languages. French TV is making a film of
The President's Hat
and the movie rights of
The Red Notebook
have been sold to UGC.
My Thoughts:
- I was so excited to read this translated book!
- The story reminds me of Just Like Heaven with Reese Witherspoon and Mark Ruffalo.
- What kind of man is curious enough to meticulously go through a lady's handbag? Despite that, Laurent was an interesting guy. I really liked him.
- I love all the French culture and words used. I want to visit France!
- This book made me want to brush up on my French and learn it better.
- This was a fun, light, and quick read.
- Reading this made me a feel a little more connected with people around the world. Even though we live on different continents, we are still enjoying the same stories with the same characters.
- I write a little bit more about my thoughts on the book in a previous post about translated books.