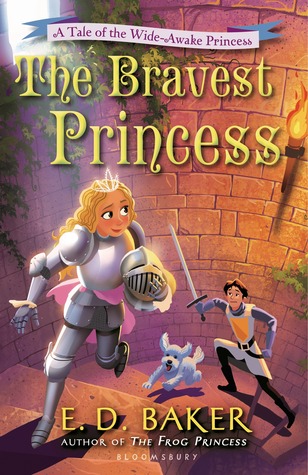 Goodreads Says:
Sleeping Beauty's younger, non-magical sister, Annie, still can't rest while trouble in the kingdom threatens her good friend, Snow White. Snow White's evil stepmother has disappeared, and her father wants her married off right away--but who should she choose? How can she tell which prince is best? It's Annie and her good friend Liam to the rescue! A hilarious and and fantastical romp through a fairy tale landscape from beloved author E D Baker.
My Thoughts:
- I love that there is a third book in this series! These are so fun and charming. I can't wait to share these with my daughter when she is older.
- The cover is awesome!
- I really like Liam and Annie's relationship. They are friends and companions, and they are sweethearts.
- I like the way Liam looks out for Annie. He is so chivalrous. Sometimes he can be too protective, but it's isn't too bad.
- The map in the front gives a few plot points away.
- I liked the different competitions the princes had to do. They were clever and fun to read.
- I love that Annie doesn't fit the typical mold for a princess. She is curious, brave, and smart. I love how she takes matter into her own hands.
- Overall, I was very pleased with this story. It was fun and cute.
Series Info:
This is the 3rd book in the Wide Awake Princess series. Click on the cover below to see my thoughts on the previous books.