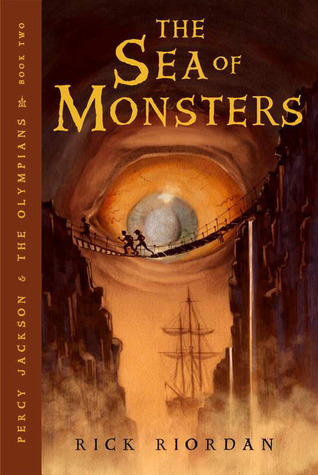 Dust Jacket Says:
Percy Jackson's seventh grade year has been surprisingly quiet. Not a single monster has est foot on his New York prep-school campus. But when an innocent game of dodgeball among Percy and his classmates turns into a death match against an ugly gang of cannibal giants, tings get . . . well, ugly. And the unexpected arrival of Percy's friend Annabeth brings more bad news: the magical borders that protect Camp Half-Blood have been poisoned by a mysterious enemy, and unless a cure is found, the only safe haven for demigods will be destroyed.
In this fresh, funny, and hugely anticipated follow-up to The Lightning Thief, Percy and his friends must journey into the Sea of Monsters to save their beloved camp. But first, Percy will discover a stunning new secret about his family - one that makes him wonder whether being claimed as Poseidon's son is an honor, or simply a cruel joke.
My Thoughts:
- This was fun, funny, and adventurous!
- I really like how Percy and Annabeth encounter a lot of the same things Odysseus from The Odyssey did.
- I like how modernized the old Greek mythology is, and I like how the author explains certain modern things as part of the mythology.
- Tyson was a great addition to the story. I really enjoyed his character. He made me laugh, and I kinda have a soft spot for under dogs.
- We can start to see Percy growing as a hero, and I'm looking forward to more character development for him.
- I know a fair amount of Greek mythology, and it makes the books more fun. I'm also glad the characters explains some of the stories that relate to their quest. I'm learning new things!
- I think I liked this one a little more than the first book, and I'm excited for the next ones!
Previous Book in the Series
(cover is linked)