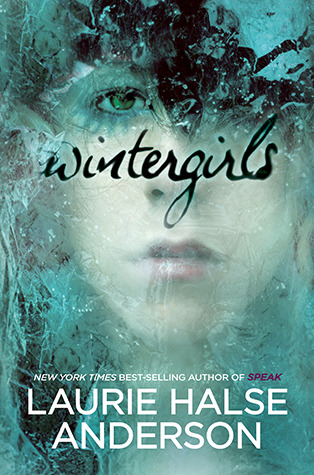 From Goodreads:
"Dead girl walking," the boys say in the halls.
"Tell us your secret," the girls whisper, one toilet to another.
I am that girl.
I am the space between my thighs, daylight shining through.
I am the bones they want, wired on a porcelain frame.
Lia and Cassie are best friends, wintergirls frozen in matchstick bodies, competitors in a deadly contest to see who can be the skinniest. But what comes after size zero and size double-zero? When Cassie succumbs to the demons within, Lia feels she is being haunted by her friend's restless spirit.
In her most emotionally wrenching, lyrically written book since the multiple-award-winning
Speak
, Laurie Halse Anderson explores Lia's descent into the powerful vortex of anorexia, and her painful path toward recovery.
My Thoughts:
- The writing style was weird. I understand some of the strikeout parts, but others were just weird and they weren't needed.
- This was the first book I've read that addresses anorexia. I learned a few things about this issue.
- Lia's view of herself didn't seem consistent through the book. She would complain about how fat she was, but then she would comment on how she is the skinniest one in the room, and she can wear size 0 stuff.
- Lia's family is crazy! Her mom is a control freak, and her dad isn't really involved. The step-mom seems like she is just trying to survive all the chaos. They didn't create a very stable or supportive family life for Lia. I wish they could have helped her more.
- There are a couple swear words, but nothing bad.
- It isn't bad enough that Lia is starving herself, but she hallucinates and cuts herself too! This girl needs help! Through the whole book, I just wanted her to reach out and get help.
- While reading this, I found myself not wanting to eat at times, and other times I wanted to eat a whole pizza.
- Overall, I liked it, but I probably wouldn't buy it or re-read it. It lacked a certain charm.