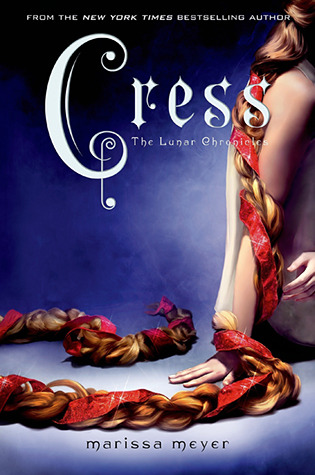 Goodreads Synopsis:
Even in the future. there are damsels in distress...
In the third installment of the Lunar chronicles, Cress, having risked everything to warn Cinder of Queen Levana's evil plan, has a slight problem. She's been imprisoned on a satellite since childhood and has only ever had her netscreens as company. All that screen time has made Cress a great hacker. Unfortunately, she's just received orders from Levana to track down Cinder and her handsome accomplice.
When a daring rescue of Cress involving Cinder, Captain Thorne, Scarlet, and Wolf goes awry, the group is separated. Cress finally has her freedom, but it comes as a high price. Meanwhile, Levana will let nothing prevent her marriage to emperor Kai. Cress, Scarlet and Cinder may not have signed up to save the world, but they may be the only hope the world has.
My Thoughts:
- I love how Cress had elements of the classic Rapunzel story, but Cress is still a completely unique story by itself.
- I like how all the stories converge. We get pieces of everyone's story, but they all contribute to the plot as a whole. Meyer is a really great storyteller, and her books are very well thought out.
- Cress makes me laugh. Her personality is so fun. I love how all the characters have very distinct personalities. There is never any confusion about who is who or who is speaking.
- There was a lot more action in this book, and I loved every moment!
- The ending was AWESOME!! The last 100 pages are so addicting and an emotional roller coaster.
- Love this series!! It is amazing! I can't wait to read the rest!