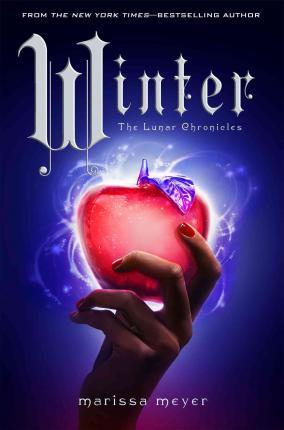 Goodreads Says:
Princess Winter is admired by the Lunar people for her grace and kindness, and despite the scars that mar her face, her beauty is said to be even more breathtaking than that of her stepmother, Queen Levana.
Winter despises her stepmother, and knows Levana won't approve of her feelings for her childhood friend—the handsome palace guard, Jacin. But Winter isn't as weak as Levana believes her to be and she's been undermining her stepmother's wishes for years. Together with the cyborg mechanic, Cinder, and her allies, Winter might even have the power to launch a revolution and win a war that's been raging for far too long.
Can Cinder, Scarlet, Cress, and Winter defeat Levana and find their happily ever afters?
My Thoughts:
- Amazing and very satisfactory ending to a great series! I loved each of these books!
- Winter was a very interesting and unique character. I loved her struggles and strengths. She defied Levana in her own way.
- Very action packed book! I loved that this didn't sugar coat the chaos of war. There will always be casualties and heartache in war.
- I'm not sure I'm okay with what happened with Wolf.
- I loved that each of the main characters had their moment to shine. There were some great character developments for everyone!
- The world building was awesome! I loved visiting Luna.
- I loved that there were classic Snow White elements and moments, but this story is very unique. This series is one of the best fairy tale retellings out there.
- Even though the reader is introduced to Winter and her story, the other characters are still very prevalent and contribute to the story as a whole. It is really awesome how she was able to do that.
- This series has a wonderful intricate plot and amazing characters! You CAN have both!