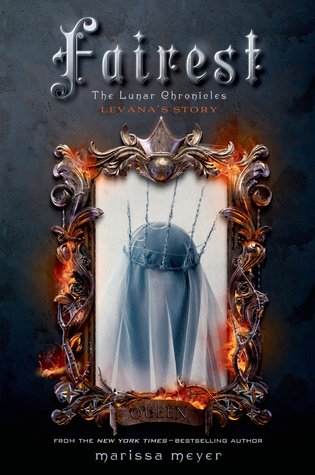 Goodreads Synopsis:
In this stunning bridge book between
Cress
and
Winter
in the bestselling Lunar Chronicles, Queen Levana's story is finally told.
Mirror, mirror on the wall,
Who is the fairest of them all?
Fans of the Lunar Chronicles know Queen Levana as a ruler who uses her "glamour" to gain power. But long before she crossed paths with Cinder, Scarlet, and Cress, Levana lived a very different story – a story that has never been told . . . until now.
Marissa Meyer spins yet another unforgettable tale about love and war, deceit and death. This extraordinary book includes full-color art and an excerpt from
Winter
, the next book in the Lunar Chronicles series.
My Thoughts:
- Levana is one messed up lady! I felt sorry for her about certain things in her life, but for the most part, she is screwed up and evil. The way she manipulates people is awful!
- I can't believe how vein and stupid Cinder's mom is! Wow! Cinder must have gotten all her brains from her father, whoever he is. Thanks goodness she didn't take after her mom at all.
- I felt SO bad for Solstice, Evret, and Winter. Levana really ruined their lives.
- It was awful to see Levana start out as a not so bad person, but then she just kept getting more selfish and entitled, and she made some pretty horrible decisions. After a while, even her guilt went away.
- I loved the insight and info of certain events and things in the series, like the letumosis disease, the queen's hybrid army, side characters, etc. It was fun to read about the background story.
- I can't wait to read Winter!!!